DAILY OM:
Finding Time for You ~ Healing Our Bodies ~ A New Approach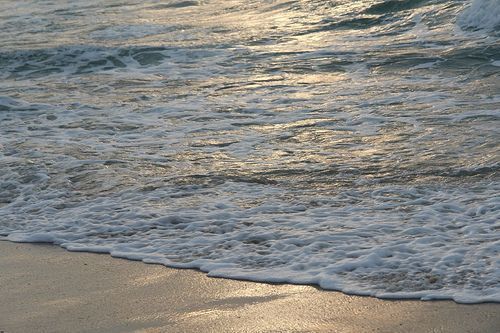 Surrender, and allow deep healing benefits to wash over you.
DAILY OM
January 11, 2010
Finding Time for You ~ Your Most Vital Commitment
http://www.dailyom.com/articles/2010/21578.html
Within each of there is a well of energy that must be regularly replenished. When we act as if this well is bottomless, scheduling a long list of activities that fit like puzzle pieces into every minute of every day, it becomes depleted and we feel exhausted, disconnected, and weak. Refilling this well is a matter of finding time to focus on, nurture, and care for ourselves, or "you time." Most of us are, at different times throughout the day, a spouse, a friend, a relative, an employee, a parent, or a volunteer, which means that down time, however relaxing in nature, is not necessarily "you time." Though some people will inevitably look upon "you time" as being selfish, it is actually the polar opposite of selfishness. We can only excel where our outer world affairs are concerned when our own spiritual, physical, and intellectual needs are fulfilled.

Recognizing the importance of "you time" is far easier than finding a place for it in an active, multifaceted lifestyle, however. Even if you find a spot for it in your agenda, you may be dismayed to discover that your thoughts continuously stray into worldly territory. To make the most of "you time," give yourself enough time on either side of the block of time you plan to spend on yourself to ensure that you do not feel rushed. Consider how you would like to pass the time, forgetting for the moment your obligations and embracing the notion of renewal. You may discover that you are energized by creative pursuits, guided meditation, relaxing activities during which your mind can wander, or modes of expression such as writing.

Even if you have achieved a functioning work-life balance, you may still be neglecting the most important part of that equation: you. "You time" prepares you for the next round of daily life, whether you are poised to immerse yourself in a professional project or chores around the home. It also affords you a unique opportunity to learn about yourself, your needs, and your tolerances in a concrete way. As unimportant as "you time" can sometimes seem, it truly is crucial to your wellbeing because it ensures that you are never left without the energy to give of yourself.
DAILY OM
October 14, 2010
Healing Our Bodies ~ Touch
http://www.dailyom.com/articles/2010/25733.html
Sometimes we might concentrate so much on our spiritual lives that we overlook the wonders of being present in our physical form. When we are more aware of the fact that our bodies are also important in terms of our personal growth, we may find it easier to nurture them. One of the most powerful ways to do this is through human touch, for a loving, comforting touch allows us to access the part of ourselves that yearns for a sense of oneness with the world around us. Even simple forms of touch connect us not just to our bodies but also to the energetic presence of other people.

There are so many ways to incorporate touch in our daily lives, one of the easiest being a heartfelt embrace. Just making a point to hug someone on a daily basis and really feel our energy pass between each other can strengthen the bonds that keep us together. Hugs help us heal any hurt or upset we may have recently experienced by letting us release into the moment of the embrace and realize that no matter what happens to us, we have someone in our lives who supports and cares for us.

Another nourishing form of touch is massage. While we may think of massage as a luxury, it is actually an ancient form of healing that enables us to open up our energetic pathways in order to receive unlimited energy from the universe. It doesn't matter whether a simple massage comes from a loved one or a massage therapist, but by giving ourselves the gift of massage every once in a while, we are doing something healthy and beneficial for our bodies. Massage helps our bodies activate their own restorative powers, creating a wonderful way to engage fully in our own healing.

Letting ourselves take advantage of the healing nature of touch creates space where we can truly live in and experience the world through our bodies, allowing us to completely immerse ourselves in the loving sense of joy and wonder that is our life.
DAILY OM
August 16, 2010
A New Approach ~ Taking a Break from What You Are Doing
http://www.dailyom.com/articles/2010/25031.html

Sometimes we can get so wrapped up in our thoughts that we wind up going round in round in circles, finding it difficult to concentrate on things and, because we are so distracted, not really accomplishing much. There may be signals—mental, emotional, and physical—that tell us we need to slow down and relax. Since we are so involved in things that are external to us, however, we may easily overlook what is really going on inside of us. It is during these times that we need to step back from the things that occupy our minds and take time out to connect with our inner self, giving our minds, bodies, and spirits the time they need to reenergize and heal.

At first it may seem that by taking a break we may not be as productive as we would initially like. In reality, a healthy period of rest is something that gives us a real sense of the unlimited nature of our true potential. Spending a couple of minutes walking outside, doing a few yoga poses, meditating, or simply becoming attuned to the rising and falling of our breath enables us to let go of our worries. This act brings our focus back to the things that are truly essential for us, such as our sense of oneness with the universe and our inner peace and well-being. As we begin to get in touch with this part of ourselves, we will find that our usual everyday troubles and worries become less critical and that we not only have much more room in our lives to really reflect on the issues that mean the most to us, but we are also able bring to all the situations we encounter a much more positive and healthy outlook.

Giving ourselves respite from our daily concerns is like giving a gift to ourselves. By stepping away from the problems that seem to saturate our thoughts, we lessen the weight of our troubles and instead become more receptive to the wisdom and answers the universe has to offer us.
~~~